Sunil is supposedly a 'sophisticated' policeman who is also a 'professor' or something or other. He wrote the
following paragraph in the Washington Post
:
Even though it might sound harsh and impolitic, here is the bottom line: if you don't want to get shot, tased, pepper-sprayed, struck with a baton or thrown to the ground, just do what I tell you. Don't argue with me, don't call me names, don't tell me that I can't stop you, don't say I'm a racist pig, don't threaten that you'll sue me and take away my badge. Don't scream at me that you pay my salary, and don't even think of aggressively walking towards me. Most field stops are complete in minutes. How difficult is it to cooperate for that long?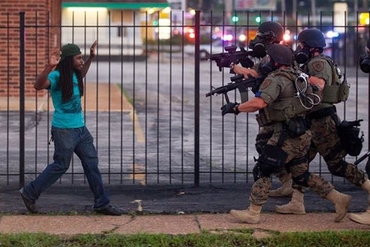 Top 'o the morning to you officers! And how's Mrs. Himmler today?
Read that? "Do what I tell you" if you don't want me to kill you. How pray tell does our begadged baboon differ from the KGB? Or a criminal who says the same thing? Or an occupation army? Not a whit. I'm glad he's out oppressing and abusing Los Angelenos - they seem to dig being humiliated and ridden by the state. Because if a thug like him were to stop one of my kids he could easily murder them if they just happened to 'talk back' and offend his vile, obscene ego.
Rememeber: Mr. Dutta is considered one of the "liberal" "good ones". The cop that stops you won't be top of the compassion or competence class. Take for example my friend John who hails from chock full of liberal compassion Northern California: he had a nice social interaction with an armed female police officer from child protective services. He asked her under what circumstances she considered it justifiable to use deadly force. Her exact words were: "when I am made to feel uncomfortable". This is why you should avoid the police with all your heart and soul and mind and in particular make sure your kids stay away from them. Last year American Policemen killed 410 people. More than all the
murders in Australia, almost as many as all the murders in Canada
. Last year German policemen discharched their weapons (mostly as warning shots, something that our police doctrine eschews)
85 times. All year long.
And they're upset about that number.
I think the reason Germany has so little state police violence is that we've imported all their Gestapo and SS expertise. Because they be gettin' down on the homies here in the Land of the Free and Home of the Brave policemen who can squeeze off half a dozen wild panicked shots faster than they can piss their pants.
Sunil Dutta is a member of an occupying army that considers you to be a potential threat to his life and career. Fear him. Fear them.
God help us every one.