One of the signs of a broken or 'cronied' economic system is a lot of very small businesses and single proprietorships - the government's manipulations make it hard for companies to grow to scale and discourage employment. These types of businesses aren't really entrepreneurial in any meaningful sense, they're just low income, low productivity coping mechanisms. Countries with open economies tend to have very low levels of self employment because successful business scale and drive out the less innovative and productive mom 'n pops. The US has among the lowest share of the self employed. On the other hand, the US has among the highest share of 'super entrepreneurs', those Schumpeterian heros that create mega businesses that put the mom 'n pops out of business.
It turns out that having a truly dynamic, Schumpeterian 'creative destruction' economy is very good for charitable giving. Also being an Anglo Saxon Polity also seems to help. Being scandinavian? Not so much - but they are so compassionate. Here's a cool chart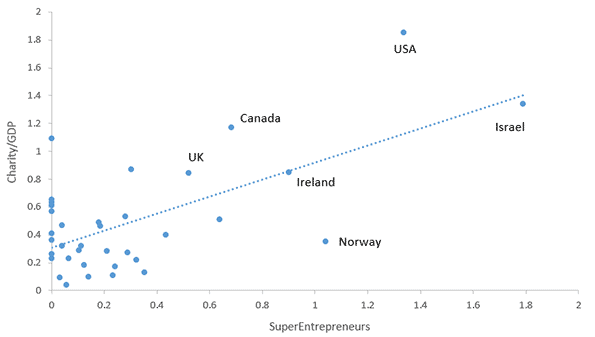 I got the chart and the idea
here
.